Akkineni Nageswara Rao, a famous actor in Telugu cinema, appeared in over 200 films in Tamil, Hindi, and Telugu throughout his remarkable career, which spanned seven decades.He's remembered as a mentor to many Telugu cinema superstars.On September 20, the Akkineni family celebrated what would have been his 100th birthday.
The event drew various stars and superstars from Indian cinema.
In the midst of this grand celebration, a video showing a playful exchange between veteran actor Mohan Babu and actress Jayasudha has gone viral.
During the ceremony, numerous actors and directors delivered speeches, paying tribute to the legendary actor.
Mohan Babu shared his own experiences, expressing how fortunate he felt to have worked with such a humble and kind individual as Akkineni Nageswara Rao.
While other speakers praised the late actor, Jayasudha was engrossed in her phone, which didn't sit well with Mohan Babu.He playfully took her phone and encouraged her to listen to the speeches.Initially, Jayasudha appeared annoyed, but she eventually found humor in the situation.
The video capturing this incident was uploaded to the X platform (formerly known as Twitter) by a user named Actual India and has since gone viral.
Fans who watched the video found it amusing.
Some saw it as a humorous reminder not to use their phones, while others criticized Mohan Babu's actions, believing he had no right to behave that way towards anyone.
SS Rajamouli, the director of "RRR," also spoke at the event, expressing his admiration for Akkineni Nageswara Rao, whom he had admired since childhood.
Although he had only spent a few moments with the actor during his career, Rajamouli cherished those moments.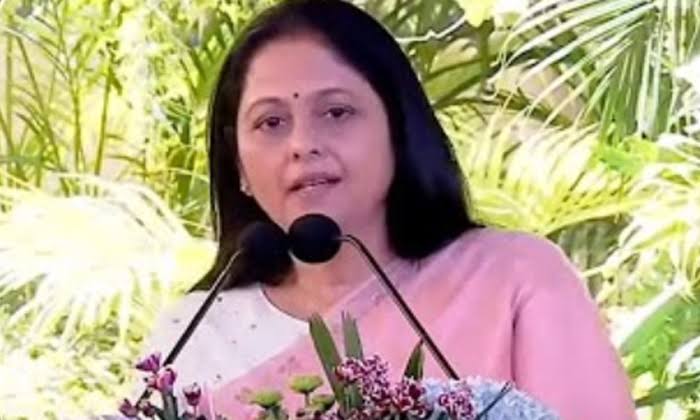 So to sum it up, the centenary celebration of Akkineni Nageswara Rao's birth brought together Indian cinema luminaries, including Mohan Babu and Jayasudha, whose playful phone incident amused fans and sparked a viral video.The event was a heartfelt tribute to the late actor's enduring legacy.