Ram Pothineni, the popular Telugu actor, is getting ready for the release of his action movie "Skanda," in which he stars alongside Sreeleela.Ram has gathered a massive fan following not only in his home state but also across India.
While Ram is mainly known for his Telugu films, his movies that were dubbed into other languages have attracted fans from various regions.His Hindi films, in particular, have been quite successful when dubbed.
Recently, Ram had a conversation with Sanket Mhatre, the Hindi voice actor who dubs for him.During this chat, Ram Pothineni shared some interesting encounters he had with Bollywood legends Shah Rukh Khan and Salman Khan.
Ram had the privilege of meeting Shah Rukh Khan, thanks to director Atlee and his wife, Priya, who are close friends of his.They introduced him to the Bollywood icon, and Ram was pleasantly surprised by Shah Rukh Khan's warm reception.Shah Rukh Khan showed genuine interest in Ram's work, discussing his films and even requesting the trailer of "Skanda." Ram was appreciative of Shah Rukh Khan's kindness, describing him as a very sweet person.
In a different encounter, Ram met Salman Khan, who recognized him without any prior connection.This recognition was because Salman had acted in the Hindi remake of Ram's 2008 film, "Ready." Ram shared that Salman Khan was the first Hindi actor he ever met.Initially feeling shy, Ram considered leaving when he heard Salman was coming.However, Ritesh Deshmukh, his friend, insisted he stay.Salman acknowledged Ram's work in "Ready" and praised him for it.Ram felt a sense of satisfaction knowing that his film had been remade by such a prominent actor.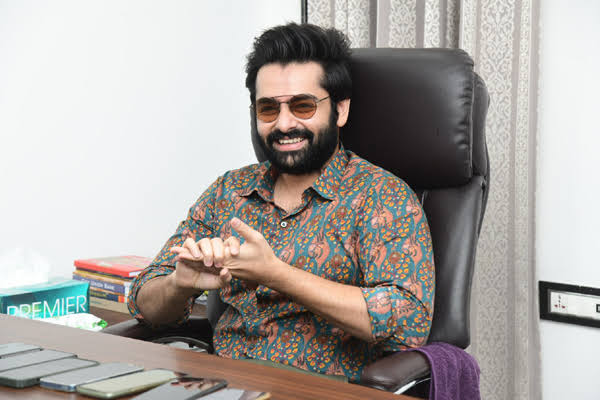 On the whole, Ram Pothineni had the pleasure of meeting both Shah Rukh Khan and Salman Khan.Shah Rukh Khan's introduction came through his friends Atlee and Priya, while Salman Khan recognized him due to the Hindi remake of his film "Ready." Ram was delighted by the warmth and appreciation he received from both Bollywood superstars during these encounters.