The romantic comedy 'Month of Madhu' is gearing up for its grand release on October 6th.The film stars Naveen Chandra, Swathi Reddy and Shreya Navile in the lead roles, and is written and directed by Srikanth Nagothi.The film is produced by Yaswanth Mulukutla under the banners of 'Krishiv Productions' and 'Handpicked Stories'.Yaswanth Mulukutla had earlier produced the critically acclaimed 'Bhanumathi & Ramakrishna'.
Sumanth Dama is the co-producer and Raghu Varma Peruri is the executive producer of the film.
The film's music is composed by Achu Rajamani, who has delivered a beautiful melody titled 'Oh Na Madhu'.
The song captures the essence of falling in love with its fusion of classical and contemporary music.The piano and guitar blend seamlessly to create a soothing tune.
The lyrics are written by the director Srikanth Nagothi himself, who has expressed the emotions of love in a simple and poetic way.The song is sung by Karthik and Yamini Gantasala, who have added their charm and soul to the song.The song features Naveen Chandra and Swathi Reddy, who share a wonderful chemistry on screen.
The film's cinematography is done by Rajeev Dharavath, who has captured the visuals with elegance and grace.
The film's editing is done by director Ravikanth Perepu, who has given a crisp and smooth narrative to the film.
The film also has Shreya Naveli, Harsha Chemudu, and Manjula Ghattamaneni in important roles.
The film promises to be a fun-filled and heartwarming entertainer for the audience.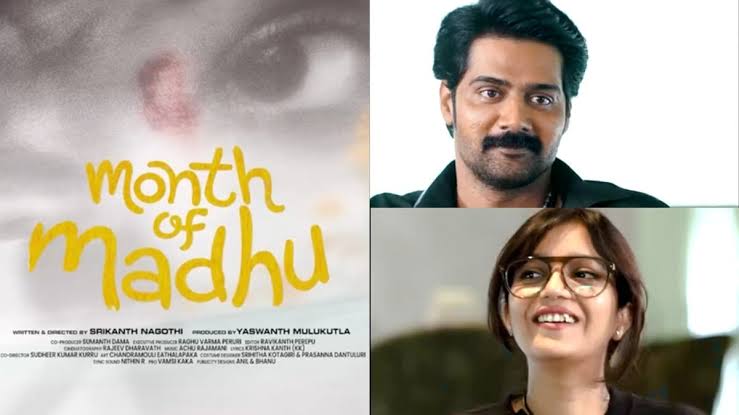 'Month of Madhu' is all set to hit the screens worldwide on October 6th.Don't miss this romantic comedy that will make you fall in love with love.