Nysa Devgan, the 20-year-old daughter of Kajol and Ajay Devgn, is gaining popularity as a star kid in the Bollywood industry.She enjoys attending parties with her friends, and whenever her pictures surface on Instagram, they quickly go viral.
Recently, Nysa had the opportunity to attend Beyonce's Renaissance World Tour concert in London, along with her friends.One of the pictures that emerged on the Internet shows Nysa having a great time at the concert.
She was seen posing with her friends, and the background revealed a packed venue.Nysa looked stunning in a gray top with long sleeves, paired with a white sequined skirt.
To complete her look, she wore a fuchsia pink hat, left her hair open, and her makeup was flawlessly done.She wore a wide smile on her face, radiating joy.Another picture captured Nysa seated next to singer Kanika Kapoor, who also looked stylish in a white tee layered with a black puffer jacket and a black hat.
Not only Nysa, but Priyanka Chopra also attended Beyonce's concert in London.She later shared pictures from the event, where she was seen enjoying the concert with her mother, Madhu Chopra.
In addition to her concert experience, Nysa recently celebrated her 20th birthday on April 20.Her parents, Kajol and Ajay Devgn, expressed their love for her through heartfelt posts on social media.Kajol shared a picture of herself with Nysa from the NMACC event, accompanied by a sweet message expressing her love and admiration for her daughter's sense of humor, mind, and kind heart.
Ajay Devgn, on the other hand, posted selfies with Nysa, expressing his pride and wishing her a happy birthday.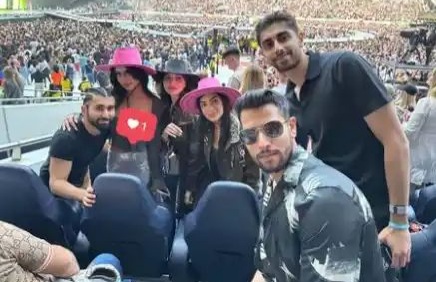 A video capturing the birthday celebration also went viral on social media.It showed Nysa cutting the cake while being surrounded by her father Ajay Devgn and grandmother Veena Devgan.
Nysa Devgan's journey as a star kid continues to captivate the attention of many, and her presence at Beyonce's concert and her 20th birthday celebration have only added to her popularity.