Prabhas and Kriti Sanon's upcoming movie, 'Adipurush,' has generated a lot of excitement among movie lovers.The film's creators have been strategically releasing key elements of the movie on relevant occasions, building anticipation among the audience.
The grand trailer launch event took place in Mumbai, where the lead actors of the film were present.The event featured a live orchestra by the talented music composers Ajay Atul, who unveiled the first single from the film called 'Jai Shri Ram.'
Now, the makers are preparing for the highly anticipated release of the second song, 'Ram Siya Ram,' which is set to launch on May 29.According to a report from Pinkvilla, this song perfectly captures the essence of 'Adipurush,' and the team aims to make it the most significant song launch ever for an Indian feature film.The song, composed and sung by Sachet Parampara, is expected to be another hit from the 'Adipurush' album.The launch will take place simultaneously across various platforms at noon on May 29.
In a groundbreaking move, this song will receive an unprecedented simultaneous release across multiple platforms.The makers have partnered with movie channels, general entertainment channels (GECs), radio stations in over 70 markets, national news channels, outdoor advertising platforms, YouTube, music streaming services, social media platforms, ticket booking platforms, and movie theaters to screen the song in real-time.
By adopting this approach, the team aims to reach audiences from all walks of life across India.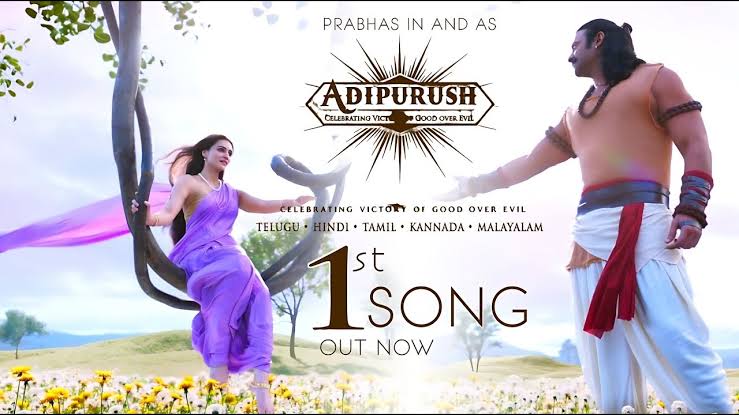 The song will be launched in Hindi, Tamil, Kannada, Telugu, and Malayalam to coincide with the film's release on June 16.Directed by Om Raut and produced by Bhushan Kumar, 'Adipurush' stars Prabhas as Lord Ram, Kriti Sanon as Janaki Sita, Sunny Singh as Laxman, and Saif Ali Khan as Ravan.The film follows the epic tale of Ramayan.