The cult classic '7/G Brundavan Colony' has made a comeback to the silver screen on September 22nd.The film, which was originally released in 2004, is a youthful emotional drama that captivated the audiences of both Telugu and Tamil languages.
The film is directed by the acclaimed filmmaker Selva Raghavan, who has also written the story based on his own life experiences.The film stars Ravi Krishna and Sonia Aggarwal as the lead pair, who delivered memorable performances that won them several awards and recognition.
The film also boasts of a stellar supporting cast, including Suman Shetty, Chandramohan, Sudeepa Pinky, and others, who added to the charm and realism of the film.The music and background score by Yuvan Shankar Raja is another highlight of the film, as it perfectly complements the mood and emotions of the characters and the scenes.
'7/G Brundavan Colony' is a film that has achieved a cult status over the years, as it resonated with the viewers of different generations and backgrounds.The film depicts the love story of Kadhir, a carefree and rebellious youngster who falls in love with Anitha, a North Indian girl who moves into his neighborhood.
The film explores the struggles and challenges faced by the couple as they try to overcome their personal and social differences.The film also portrays the transformation of Kadhir from a lazy and aimless boy to a responsible and mature man who learns to value his life and love.
The re-release of '7/G Brundavan Colony' is a testament to the enduring appeal of the film, as it has managed to attract the movie lovers to the theaters once again.Despite the availability of digital platforms that offer easy access to older films, the re-release highlights the unique charm of certain stories that compel the viewers to relive their experience on the big screen.The film has received a positive response from the critics and the audience alike, and has collected more than Rs.1 Cr gross on its first day of re-release.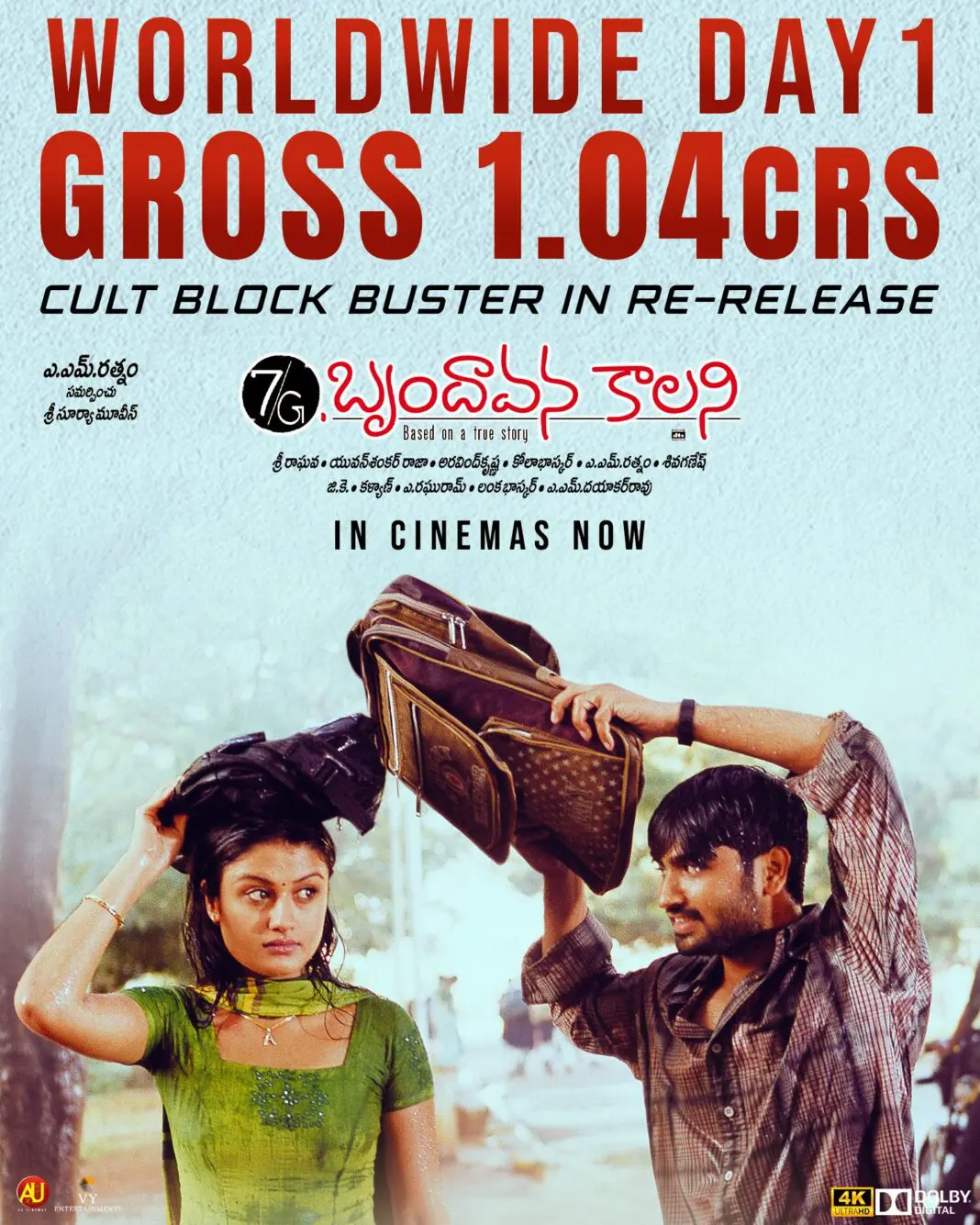 The decision to bring back '7/G Brundavan Colony' to the theaters is a smart move by the makers, as it gives an opportunity for the new generation of viewers to witness the chemistry between Ravi Krishna and Sonia Aggarwal, who have become popular actors in their respective industries.It also gives a chance for the fans of Selva Raghavan and Yuvan Shankar Raja to enjoy their creative collaboration once again.'7/G Brundavan Colony' is a film that deserves to be watched and appreciated by all lovers of cinema.