Aaradhya Bachchan, the daughter of Aishwarya Rai Bachchan and Abhishek Bachchan, is a famous but reserved star kid in Bollywood.She recently surprised everyone by dancing at her school in Mumbai during Ganpati Visarjan.
Aaradhya is a student at the Dhirubhai Ambani International School in Mumbai.During Ganpati Visarjan, she joined her schoolmates in dancing and decorating the Ganpati idol.
She wore a white kurta with a red cloth, and these heartwarming moments were shared on the school's Instagram page.
In another incident, Aaradhya and her mom went for Ganpati Darshan amidst a crowd.
A fan accidentally called Aishwarya "Aishwalya Lai," which surprised Aaradhya.Both Aishwarya and Aaradhya responded warmly to the fan, creating an adorable moment that went viral online.People praised their humility and down-to-earth nature.
Aishwarya and Abhishek, who got married in 2007, welcomed their daughter Aaradhya in 2011.Aishwarya's last movie appearance was in Mani Ratnam's period drama "Ponniyin Selvan 2."
Furthermore, Aishwarya Rai and her daughter, Aaradhya Bachchan, departed from Mumbai today to attend the Paris Fashion Week.Aishwarya is set to participate in the prestigious fashion event in the world's fashion capital, Paris, which will run until October 3.The paparazzi captured moments of Aishwarya and Aaradhya at the Mumbai airport as they made their way to the fashion event.Both mother and daughter showcased stylish and comfortable airport fashion, with Aishwarya opting for her classic all-black attire.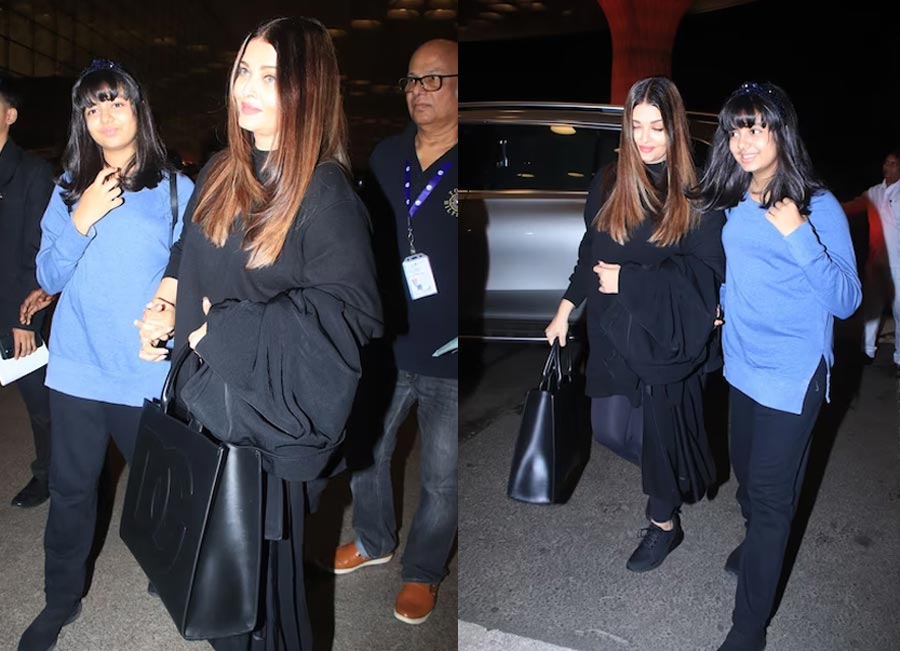 Overall, Aaradhya Bachchan, the daughter of Aishwarya Rai Bachchan and Abhishek Bachchan, is known for her reserved nature but recently delighted everyone with her dance during Ganpati Visarjan at her Mumbai school.She and her mom, Aishwarya, also shared an endearing moment with a fan during a Ganpati Darshan outing.The family continues to capture hearts with their humility and charm in the world of Bollywood.