Keerthy Suresh, the popular actress, has once again found herself at the center of wedding rumors.This isn't the first time such rumors have surrounded her, but her father, Suresh Kumar, has swiftly dismissed them as baseless.
Speaking to OTT Play, he stated that there is no truth to these reports and that they lack any credibility.He pointed out that Keerthy has been linked to other actors in the past, and these rumors are nothing new.
Keerthy Suresh herself has denied the wedding rumors involving Anirudh Ravichander, a talented music director.She clarified to a national media that these reports are incorrect, emphasizing that Anirudh is simply a friend.
It's worth noting that this isn't the first time that wedding rumors have swirled around Keerthy Suresh and Anirudh Ravichander.They have collaborated on several films like "Remo," "Thaana Serndha Kootam," and "Agnyaathavasi," and are known to share a close friendship.
Recently, Keerthy Suresh danced to Anirudh's hit song "Chaleya" from the movie "Jawan," further fueling speculations.She performed the catchy hook step alongside Atlee's wife, Priya, in a viral reel.
A few months ago, there were rumors linking the National Award-winning actress to a Dubai-based businessman named Farhan.This speculation stemmed from a photo she posted on social media.
However, Keerthy clarified that the man in the photo was her friend, not her romantic partner.She did acknowledge being in a relationship but stated that she would reveal her mystery man's identity in due course.
Keerthy's father has been proactive in addressing relationship rumors in the past as well.He shared a video message clarifying her supposed relationship with the Dubai-based businessman and reaffirmed that the man in the viral photo was merely a good friend.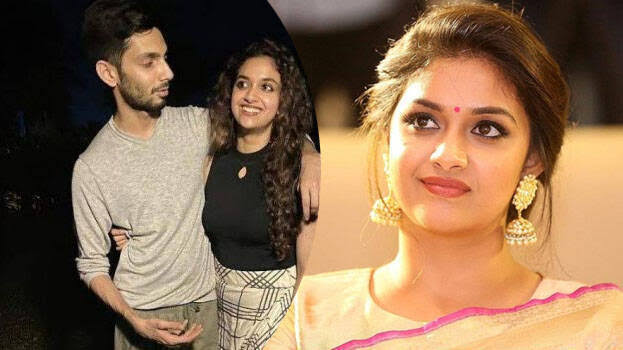 So to sum it up, Keerthy Suresh has once again faced wedding rumors, this time involving Anirudh Ravichander, which both she and her father have refuted.These rumors have a history of resurfacing, but the actress and her music director friend maintain that they share a close friendship.